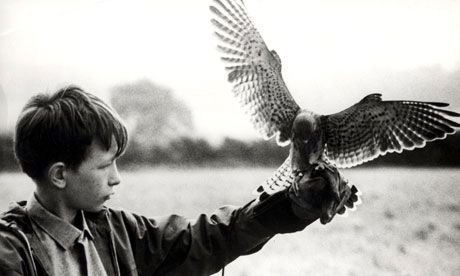 Ken Loach's masterpiece 'Kes' was recently shown at The Cornerhouse, Manchester.
This is probably up there with my all-time favorite films – I'm not a big movie buff (Top Gun also being a favourite) but this is such a beautiful film that it was well worth spending a wet Wednesday evening there last week to see the digitally restored print version.
Loach, who celebrated his 75th birthday earlier this year, is probably one of Britain's most celebrated (and controversial) directors.
In 1966 he made the influential docudrama Cathy Come Home portraying working class people affected by homelessness and unemployment, and presenting a powerful and influential critique of the workings of the Social Services. Soon afterward with Poor Cow(1967), he started directing films for the cinema, and in 1969 made Kes, the story of a poor Yorkshire boy and his kestrel, based on the novel A Kestrel for a Knave by Barry Hines which he adapted for the screen with Hines and producer Tony Garnet.
The British Film Institute named it No 7 in its list of best British films of the twentieth century, published in 1999.
Why exactly it is so popular is a little hard to fathom – whether it's because of the photography (way ahead of its time and beautifully shot), the storyline or the simple focus of the film I'm not sure, but I'd hazard a guess it's a combination of all 3 with the casting and quality of acting thrown into the mix for good measure.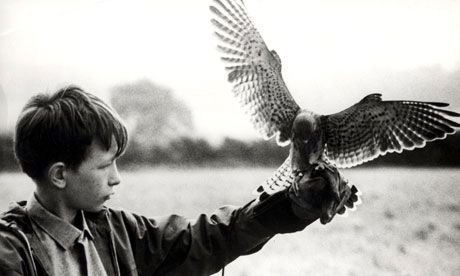 David Bradley was picked to play the part of Billy – he had previously only acted in a school pantomime when, at 14, he was picked for the lead, acting alongside many of his schoolmates.
Bradley spent several hours after each day's filming training with the three kestrels used in the motion picture. Bradley says that he was told director Ken Loach would have to kill one of the birds for the final scene. Bradley was deeply upset by this revelation, and his emotional response in the film's final scenes are indicative of how angry and depressed he was. Bradley told an interviewer that after shooting for these scenes ended, he rushed to the local farm where the kestrels were kept. He discovered that no birds had been killed after all (the filmmakers had used a kestrel which had died of natural causes).
Kes is undoubtedly one of the most remarkable films about education, or the lack of it, ever made. Its main theme is perhaps naive – that if you give a so-called dunce some kind of chance, the result can surprise him and certainly his teachers. The film's incidentals are as good as its main thrust, which is never sentimentalized and maintains the right to be angry as well as touching and funny.
Kes is the kestrel found and trained by a young Barnsley boy from a broken home. The boy, Billy Casper, virtually refuses education at the local school, which, though inadequate, is never shown as wholly awful. Encouraged by a sympathetic teacher, he finds some sort of hope in his new interest, even though social deprivation is always likely to stamp it out.
What adds immeasurably to the film's power are the incidental scenes of school life. There are two I'll never forget. One has a tiny boy lining up outside the head's study, probably for a beating, and crying his excuses as he had only been sent to the headmaster to deliver a message but ends up being bullied to hold cigarettes, subsequently receiving the cane. The tenderness displayed here mixes with hilarity in a way very few directors could even begin to achieve. The other has the teacher ex-wrestler Brian Glover (who sadly died of a brain tumour 3 years ago) as sports master taking his boys out on to the field and, to the strains of the BBC's old Sports Night signature tune, acting out a football fantasy that has him behaving more like a child than his charges.
Barry Hines, himself a teacher at a Barnsley school, made the suggestion of Brian (then aged 34) for the role of bullying games teacher Mr. Sugden.
His portrayal of the PE bully on a cold school football pitch (soaked with gallons of water and shot on a cold August day) will live forever. "I'm Bobby Charlton today, boys. Denis Law's in the wash…" he announces pulling off his pristine tracksuit to reveal his Manchester United shirt, then goes on to be a combined striker, referee and TV Commentator flattening fifteen-year-olds in his wake.
[youtube=http://www.youtube.com/watch?v=v3cayRMnVb8]
Another favorite is a scene in which Billy Casper is forced to dress for Gym in a pair of shorts made for a boy twice his size.  In this brief vignette, the character experiences his most universal humiliation yet appears undeterred when he hangs from the goalposts to the disdain of Mr. Sugden "Casper, what do you think you are, an ape..?"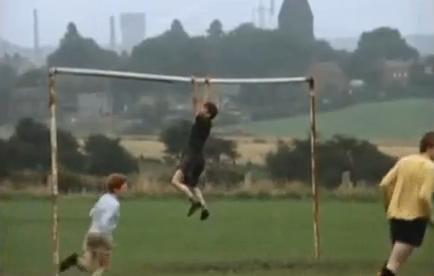 Obviously, the kestrel is a metaphor for liberty, as it flies free above the world and the harsh realities of the row houses and coal mines below. The depressing backdrop provides a constant reminder that in spite of his protests, a life 'down pit' is all that Billy can expect from life.
The killing of Kes by his elder brother signifies the end of Billy's hopes – a touching scene as he buries the dead bird under a tree is the final scene yet it's not depressing, it's an acceptance of fate and getting on with the hand that life as dealt you.
Brilliant film – thanks to the Cornerhouse.
Malcolm
---
---